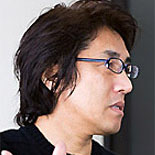 Kazuo KAWASAKI,Ph.D.

■ Major Awards and Achievements
Mainichi Design Award
Kunii Kitaro Memorial Industrial Crafts Award
bio13 Gold Medal
bio13 ICSID Design Excellence Award
iF Award for Good Industrial Design Best of Category
Red Dot Award
The Grand Prix & Millennium Prize of SILMO in France
Japan Good Design Award Gold Prize

■ Permanent corrections
Museum of Modern Art , New York
Smithsonian Cooper-Hewitt, National Design Museum
Montreal Museum of Fine Arts
Design Center Stuttgart
Philadelphia Museum of Art
The 21st Century Museum of Contemporary Art

■ Exhibition
TAKEFU KNIFE VILLAGE EXHIBITION / AXIS Gallery
ECHIZEN MONOGATARI TEN / MATSUYA GINZA
Mac the Sketch (Macintosh Computer Presentation) / AXIS Gallery
Design Exhibition For Normalization / INAX showroom NAGOYA
91 Objects by 91 Designers / Gallery'91 (New York)
PLATON'S ORGEL / GALLERY•MA
artificial heart:Kazuo Kawasaki / 21st Century Museum of Contemporary Art, Kanazawa
Imagine! - Going Beyond the Body's Limit - / Montréal Science
Copyright © 2009 Kazuo KAWASAKI All rights reserved.